WEC is a premier equine facility located just outside of Green Bay in Northeast Wisconsin.
We specialize as a full service dressage boarding, lesson and training stable. Although dressage is our main focus, we have boarders with varied riding interests including jumping. All breeds and disciplines are welcome!
Events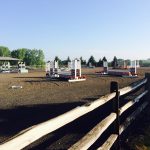 2018 Hunter / Jumper Show - June 23rd and 24th
Wisconsin Equestrian Center's Hunter Jumper Show is happening this month! Nothing matches the excitement, fun and adrenaline rush of this Olympic-caliber jumping event: a showcase combining speed, athleticism and grace.
Running Saturday June 23rd through Sunday June 24th
About Us
WEC is nestled among 80 lovely acres.  We provide outstanding facilities for both horse and rider, including 3 large outdoor riding arenas (one for general riding, dressage and jumping), a cross-country course, and large grassy paddocks/pastures for turn out.  Stable amenities include spacious stalls, dutch doors and a large indoor with great footing.  Our staff is experienced, knowledgeable, and caring.
Wisconsin Equestrian Center regularly hosts schooling and recognized Dressage shows, a Hunter/Jumper Show, Pony Club Events as well as dressage and jumping clinics.
We look forward to welcoming you to our facility.